Huelgoat is a small Breton market town with a population of about 1,500 people
The town is surrounded by an impressive 10 sq km forest with well-marked trails, popular with walkers and cyclists.
The village has a market square lined with bars and a large, tranquil lake. Thursday is market day in Huelgoat, when local tradesmen and farmers come to sell their wares in the town square. It is an ideal place to pick up some local artisan cheese, charcuterie, or crafts.
The village swimming pool opens in July and August and is a ten minute walk away from La Mare aux Fées.
Les Roc'h des Mont D'Arrée is an incredible mountain biking weekend in September every year. Check out their website www.lesroch.org/
For more information, see the many sites on Huelgoat tourism.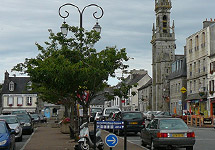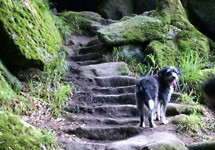 ::::::::
HUELGOAT TOWN SQUARE
::::::::
ENTRANCE TO THE FOREST
::::::::
The forest
The way into the forest starts at Le Chaos de Rochers (the chaos of rocks) – just over the dam at the end of the lake. Things to visit in the forest:
La Grotte du Diable (the Devil's Cave)
A cave with a rushing stream running through it.
Le Camp d'Artus or Arthur's Camp
A hillfort, named after King Arthur, where the Gauls took refuge from the Romans.
La Roche Tremblante
or Trembling Rock
Try and find the right place to push to make it tremble!
L'Ancienne Mine
An old silver mine with a water wheel, canal and excavations.
Le Café de Forêt
A café right in the heart of the forest – great for lunch.
The forest is overseen by the National Forests Office of France.
Daytrips
Some places of interest nearby:
Morlaix (35km/30 mins)
The nearest large town, with beautiful medieval timber framed houses and cobbled streets.
The Île de Batz (75km/1 hr)
A picturesque village on an island in Roscoff harbour.
Brest (75km/1 hr)
A ferry port with a large medieval castle and tower.
Pont-Aven (90km/2 hrs)
The famous town in Brittanya where Paul Gaugin spent his Breton years.
Le Mont St Michel (170km/3 hrs)
The famous Norman abbey.
The Vieilles Charrues Festival
...in Carhaix (around a 20 minute drive away) is the largest music festival in France and takes place in mid-July with a variety of international and local acts performing.
www.vieillescharrues.asso.fr